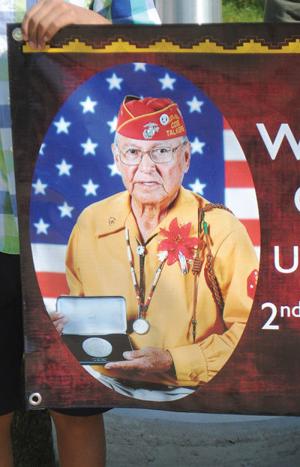 Wilford Buck
Not until 1968 did the U.S. government open its files to the details of the uses of 400-500 Native Americans, mostly from the Navajo tribes in New Mexico and Arizona, who served in WWI, WWII, Korea and Vietnam.
A 2002 movie called "Windtalkers," starring Nicholas Cage, depicted the U.S. Marines using Navajo Codetalkers during the invasion of Iwo Jima.
Adolph Hitler actually knew the United States used Native American codetalkers to communicate without enemy detection in WWI and sent cryptologists to the U.S. to learn Indian languages, but it was determined impossible to learn the hundreds of Native American languages.
Numerous tribal languages spoken by Native Americans were used in WWII, including the Tama, Iowa based Meskwaki Nation. A few were cracked. The Navajo language, used throughout the South Pacific, was never compromised by the Japanese.
That's the short history of the Codetalkers. What does that have to do with Albia? Three years ago, as Jim Keller, president of the Welcome Home Soldier Monument was fund-raising for the 50 state flags at the north end of the monument, he received a $1,000 anonymous gift to be given to a family to raise a state flag in honor of their loved one.
And then he met Malaina Anderson, a young woman of Navajo descent living in Colorado who had been looking into her grandfather's service in the United State Marines during WWII. Wilford Buck had grown up on the Navajo reservation on the New Mexico-Arizona border.
The gathering in Albia was two years in the planning and Wilford Buck's flag will be the only flag representing the Navajo Nation and their Codetalker sons.
Buck was 17 years old when he enlisted, was attached to the Second Marine Division and was at Pearl Harbor before joining a Marine combat unit in the final months of the war. Cpl. Buck died at the age of 88 in 2014.
One of the flags not accounted for was the New Mexico state flag, one of four state flags that does not feature the color blue. It is bright yellow with a red circle and four sets of red stripes, designed in 1920. The circle represents the Zia (Pueblo Indian) sun symbol, the four sets of stripes, the four stages of life, the four seasons, the four winds and the four portions of each day.
Family members from Texas, Arizona and Colorado made the trip to Iowa and the Welcome Home Soldier Monument to see the flag raised in Wilford Buck's honor.
Included in the group was his widow, Lillie Buck. There were also children, grandchildren and great-grandchildren including Malaina Anderson, Gloria Anderson, Theresa Savilla. Logan Anderson, Deklyn Roy, Zaiden Valdez, Elijah Savilla, Eric George and Emily Butler.
Of the 400-500 Codetalkers, only 14 remain living.